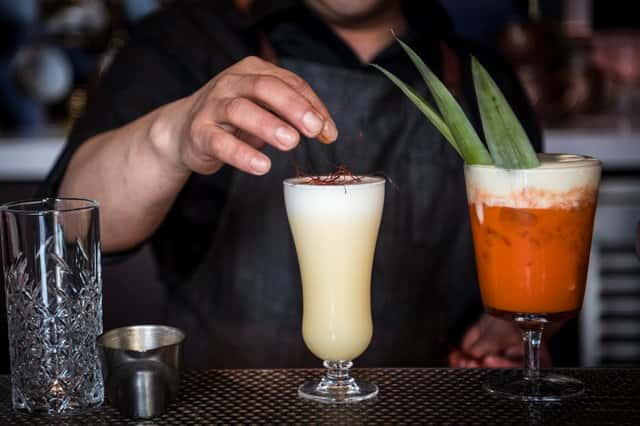 Why ROOH is the Best Chicago Restaurant
Take part in a culinary experience like no other. One bite or sip transports you through an experiential culinary journey aimed to stimulate your taste buds, transporting you to the very soul of India.
With traditional flavors and local ingredients, critics agree Rooh Chicago provides a menu that pleases even the most discerning palate. Read on to find out why Rooh Chicago is the best restaurant in Chicago.
Best Restaurant Chicago for Indian Cuisine
Rooh Chicago provides an eclectic menu for gourmets and gastronomists alike.
It's the enthusiasm and passion for Indian gourmet food that propels Rooh Chicago to the epicureanism stratosphere, excelling as the Indian restaurant that satisfies.
Edible Creations
Rooh Chicago features traditional cuisine from India but with a modern, progressive twist. Plated with a fancy twist, Rooh's menu features a total of around 34 dishes with seasonally available ingredients.
Menu Highlights
Kulcha (Indian bread) served with chili cheese
Kashmiri-style lamb ribs braised with milk, cardamom, and ginger
Kolidwada (a type of fish native to Indian) - served with Cauliflower
Tandoor Smoked Pork Belly
---
Libation Creations
Perfectly paired with Rooh Chicago's authentic Indian dishes are the imaginative cocktails. Using the ancient Ayurvedic wisdom, each cocktail is either sweet, sour, salty, bitter, pungent, and/or astringent "achieving a balance of body, mind, and spirit".
Cocktail Highlights:
Himalayan Sunset - Coconut Arrack, Blood Orange, Mint, Lime, Peppercorn
Hyderabad Tonic - Turmeric-Infused Aviation Gin, Orange & Thyme Syrup, Grapefruit Tonic
Malabar Old Fashioned - Coconut Oil Fat-Washed Bourbon, Coffee, Maple, Bitters
---
Press
Rooh Chicago has become a critical hit for a restaurant in San Francisco. With reviews within the Michelin guide, The Eater, and other "guides" Rooh Chicago shines as the premiere restaurant serving delicious authentic Indian food and cocktails.
2019 Professional reviews & critic responses
---
Rooh Chicago "Amenities"
Rooh Chicago provides a comfortable yet high-end atmosphere allowing customers to learn about South Asian food without the "American flare". Rooh Chicago's "amenities" make sure each customer has the perfect experience, enjoying food and the perfectly paired cocktail with either one person or 10!
Private event space
Seating around 10 people comfortably, Rooh Chicago provides an enclosed space with an intimate atmosphere perfect for any celebration. Per CDC guidelines Rooh Chicago is able to seat 6 max at a table indoors and 10 max to a table outdoors. If you make an indoor reservation for a party larger than 6 you will be seated at two separate tables with social distancing.
Everyone can be VIP
Rooh Chicago, makes everyone feel like a VIP. Signing up for their free exclusive newsletter gives interested parties access to recent menu updates and reviews.
Delivery and Pickup
Rooh Chicago provides easy pickup and delivery for all customers. Simply order through the popular delivery apps or call, make an order and pick up directly at Rooh Chicago. All orders are perfectly packaged so as to not ruin the integrity and taste of the meal(s).
Reservations
Make your reservation now with our easy online reservation service: Visit https://www.roohchicago.com/roohreservations and book your spot on time.
---
Reviews from customers:
Rooh Chicago has been loved by thousands of customers who enjoy the on modern authentic Indian fare. Customers have raved about the satisfying meals, portion sizes, and atmosphere. Here are highlights of the customer reviews:
"I have absolutely zero complaints about my dining experience at Rooh. We were lucky enough to have William as our server - and he was SO spot on with suggestions. I started off with an absolutely delicious cocktail - SALTY, PINK CITY, Tequila, Guava, Chili, Lime, ROOH Masala. It's basically a twist on a margarita - and boy do I love margs. For starters, we shared quite a few plates. The Scallops were cooked and seasoned perfectly. I loved the Lamb so much, that was probably my favorite of the small plates. GUNPOWDER SCALLOP - Cauliflower Cream, South Indian Prawn CakeTANDOOR SMOKED PORK BELLY - Ginger & Mango BBQ, Pickled Radish and CarrotLAMB KEEMA HYDERABADI - Potato Mousse, Green Peas, Buttered Pao(Brioche)For a main dish we had to try the Butter Chicken. If you're choosing between Naan and Rice, I'd go with the Naan. The Butter Chicken is just amazing. BUTTER CHICKEN, Red Pepper Makhani, Cashews, Fenugreek & Butter PowderGARLIC NAAN, Naan with garlic and butter House Made to order in our TandoorSAFFRON RICE ROOH is a winner - I can't wait to come back!"
"Love this upscale Indian restaurant. Beautiful interior with amazing awesome food and fancy cocktails! Excellent service and atmosphere. Avocado raita and chili cheese naan is to die for! Can't wait to go back!"ws, Fenugreek & Butter PowderGARLIC NAAN, Naan with garlic and butter House Made to order in our TandoorSAFFRON RICE ROOH is a winner - I can't wait to come back!"
Great food. Would definitely recommend their "culinary journey" tasting menu.
Very good cozy upscale Indian restaurant. The appetizers were the best of all. Very different Indian fusion restaurant
---